It was the year none of us could have imagined.
We've endured a global pandemic. Our eyes were opened to our country's racial and economic injustice. And we've emerged from the most divisive election year in the history of the United States.
In my own work, I witnessed a roller-coaster of reactions. Nonprofits who were afraid to fundraise. And missed out. And organizations that stepped up to the challenge and saw tremendous rewards.
Surprisingly, many virtual events saw great success. Will the future hold what my friend, T. Clay Buck, refers to as "hybrid events" once this pandemic is over? Who knows?
One thing is clear. When we whole-heartedly embrace the challenges of our times and practice heart-centered donor-centric fundraising, we'll emerge victoriously. In any crisis.
Read on to discover what smart fundraisers will be doing in 2021…
---
1. Develop your resiliency mindset
You must be the calm in the face of the storm. The flames of fear and division are being fanned still. The nonprofit sector is not immune. And we're oftentimes picking up the slack services government should be providing. With little by way of resources.
You must develop a practice of resistance. In his book, The Happiness Advantage, Harvard happiness researcher, Shawn Achor, notes that your happiness affects others.
"Each one of us is like that butterfly the Butterfly Effect. And each tiny move toward a more positive mindset can send ripples of positivity through our organizations our families and our communities."
Make your practice a habit. You might set aside 30 minutes every morning for inspirational listening (or reading). Practice meditation. Engage in yoga or vigorous physical activity daily. Whatever works for you.
In the middle of his epic cancer battle, John Haydon said to me that he couldn't "afford the luxury of a negative thought." Your strength and ability to lead will come from taking good care of yourself.
2. Focus on the basics (Create Your Systems)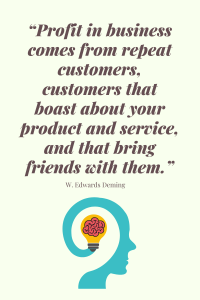 Develop your organization's Ask/Thank/Report/Repeat systems for growing individual giving. Ask yourself:
How are you transforming first-time donors into regular donors, as well as mid-level donors into major donors?
What systems do you have in place to collect the stories that move your donors?
How are you capturing your donors' stories?
Think through every step of every process with the end in mind.
This might not be the kind of thinking that's going to generate enthusiasm at your next staff or board meeting. They'll be more excited about the latest bright shiny object. But systems thinking is the oftentimes critical missing piece in growing your donor base and your email list.
One of our long-time students wrote in:
"We're 74% of the way to our revenue budget and we're not quite halfway through our fiscal year and are up 322% year over year (last year we raised almost $770K) How are we doing it? By sticking to the basics: great case, a plan that people can see themselves in, engaging current supporters in meaningful ways, identifying and engaging new supporters the right way: inviting them in as partners, not just a gift…and looking to add new/different ways to give that make it easy for someone to act — as well as share with others."
Make no mistake. Your reliable rinse-and-repeat systems require investment. That means investing in a solid donor management system. Investing in creative, in printing, in postage.
3. Giving is up, and it's powered by small donors
The Chronicle of Philanthropy notes that:
"The first half of 2020 was remarkably strong for fundraising, with donations rising almost 7.5 percent over the first half of 2019, writes Eden Stiffman.
Perhaps most surprising is that it wasn't just the wealthy who were behind the rise: Gifts of $250 or less accounted for a big part of the growth. They rose 19. 2 percent, perhaps due in part to the $300 charitable deduction made available to every American as part of the Cares Act.

"The significant increase in gifts under $250 shows many donors have been moved to give even amid the pandemic and resulting economic uncertainty," Elizabeth Boris, chair of the Growth in Giving Steering Committee, said in a news release."
The best way to grow your small donor program? Start your monthly giving program — and most importantly, work it.
Remember, you won't grow your program by merely including the option to give monthly online. Your organization's monthly giving program isn't an afterthought. Go through the process of developing your monthly giving case for support and create a dedicated program. Review your donor data with an eye to loyalty and include at least one (preferably three or more) monthly giving appeal(s) every year to your target audience.
4. Online fundraising is growing…but multichannel rules
2020 saw a major increase in digital fundraising, with online giving growing by 12.1%.
Many small nonprofits saw tantalizing success with their first digital campaigns. Far too many of them will view this as a license to abandon direct mail. They will be making a major mistake. The research is clear. Multichannel donors are worth more than three times more than online-only or offline only donors. Getting your donors to give in multiple channels is a way to not only increase short-term revenue but long-term as well.
Focus on building a strong multi-channel approach, getting found online, and defining your back-end digital systems for the absolute best possible donor experience in 2021. Walkthrough every step of the process regularly. Your organization's social media should complement your fundraising strategy. Remember, GivingTuesday is a day, not a strategy.
5. In everything you do: Lead With Gratitude
Take a peek into any nonprofit Facebook group and you're likely to see posts like this:
Talked with a nonprofit that doesn't want to send thank you letters for each small gift. Thoughts?
I get it. You're impossibly busy. You're doing important work. Such vital work, many of us are inclined to think, we shouldn't need to make our case for support or thank our donors. We never once stop to consider our work from the perspective of our funders.
Customer service — meaning donor care — will be more important in 2021 than ever before.
Make stewardship the cornerstone of your development plan. In 2021 make a plan for incorporating gratitude throughout your day.
6. Develop your organization's culture
Last year, the Institute for Sustainable Philanthropy, led by Dr. Adrian Sargeant, was commissioned to conduct a survey on the topic of fundraising planning. This comprehensive study indicated a powerful relationship between the degree of formality adopted in fundraising planning and all measures of fundraising performance.
Fundraising culture was cited as a critical measure of implementing your fundraising plan.
Your organization's culture plays a critical role in your fundraising success. You can succeed without it, yes. But you'll be exhausted, diminished, and you won't be around too long.
The important thing to remember is that organizational culture takes work to build. Don't expect to bring in a consultant for a 1-hour training and slack off the rest of the year. Instilling a culture of philanthropy involves time, patience, and dedication, as well as cooperation. But the results are so worth it. A strong organizational culture leads to happier staff, volunteers, and board members. And it definitely leads to happier donors. If your nonprofit is mired in dysfunction, taking the steps necessary to build a healthy workplace culture is the remedy.
Mandy Fischer, Development Director at Intervale Center in Burlington, Vermont, knows how important a strong culture is to fundraising success. In the post, Growing Beyond Your Wildest Dreams, Mandy shared how she created a strong fundraising culture with her board and staff. And she referenced a "COP one-pager" that she developed for board and staff. You can download Mandy's tool here.
7. Make friends with your data
Our students and clients are experiencing their greatest success through the power of increased donor segmentation.
When it comes to your data, plan to dig deeper.
When was the last time you had a professional data audit performed? In his presentation to our Foolproof Fundraising group, T. Clay Buck notes that a database audit takes a deep dive into all the data in your database and looks at it objectively. You'll get a firm handle on your data quality and hygiene, donors' giving history, trends specific to your organization, demographic information and more. I can't imagine a better way to begin your year.
This is the year to make it a point to schedule regular time for training on your CRM. Twenty-four percent of nonprofit emails end up in spam folders. Keep your list clean. Quality trumps quantity. Use solid, permission-based marketing to grow your email list and never add names manually.
8. Honor donor preferences
When the election was over, I experienced a small sense of relief in knowing that the ten or so daily political text messages I'd been receiving would finally come to an end.
Not so fast, Pam. During the month of December, the texts were back. Yes, fundraising text messages from dozens of nonprofits, none of whom I recalled giving permission to.
As the options for connecting with our donors' increases, knowing and honoring our donor preferences will be more critical. Make it a point to ask your donors how they wish to be communicated with. At every step of the process.
9. Get out of your head and IMPLEMENT
When I started out in fundraising in 2000, there was relatively little information available online. Fundraising training was, for the most part, didactic and overpriced.
You don't have that problem. These days, there's almost too much information out there. The sheer amount of content is overwhelming. What makes it even trickier is that some of it — ESPECIALLY from some of the fundraising platforms — is downright wrong, and little more than clickbait.
And, if you're new to fundraising, it can send you in the wrong direction.
Case in point… Last year I viewed a webinar from a relatively new software company. We're always on the lookout for guest presenters for our weekly webinar series and, since this training was marketed to small nonprofits, I made the time to check it out. I was 10 minutes in when I saw that the tactics being presented were awful for the small nonprofit. Absolutely terrible.
What's more, if you implemented the methods presented, they could set your organization back. And this trainer presented her opinions with such absolute authority, that it left me dismayed for any unsuspecting newbies who may have stumbled across the webinar. She spoke with conviction and sounded like she knew what she was talking about. So why wouldn't they believe her? (A quick search led to a LinkedIn profile highlighting extensive university fundraising experience…and none whatsoever in working with the small nonprofit organizations this training was targeted to.)
Remember, time is more valuable than money. Use yours wisely.
10. Create your plan for new donor acquisition
How are you introducing new prospects into your pipeline? Consider introducing Facebook advertising, small house parties, email list-building, direct mail acquisition, or crowdfunding, into your yearly fundraising planning. Narrow it to one to three ways and work them.
And when it comes to Facebook, focus on what you can control. How are you encouraging your supporters to create fundraisers on your behalf?
11. Don't forget planned giving
As I speak daily with nonprofit organizations, one of my first questions is always "do you have a planned giving program?" Nine out of ten times the answer is no. Bequest giving accounted for 9% of all overall philanthropic giving in 2018, more than corporate funding. Even a tagline is better than nothing.
12. Start your nonprofit's major donor program
Was MacKenzie Scott's recent unsolicited $4.2 Billion in gifts the start of a new trend?
I'm not counting on the rich to save us. And the truth is that nearly every major donor starts out by way of a small gift. And that gift is often through direct mail. Once your organization's basics are in place, it's time to start your major donor program. Here's a very simple way to start that even the smallest organization can manage.
Your focus will be critical in making and exceeding your fundraising goals in 2021. Download your new Fundraising & Marketing Calendar to keep you on track.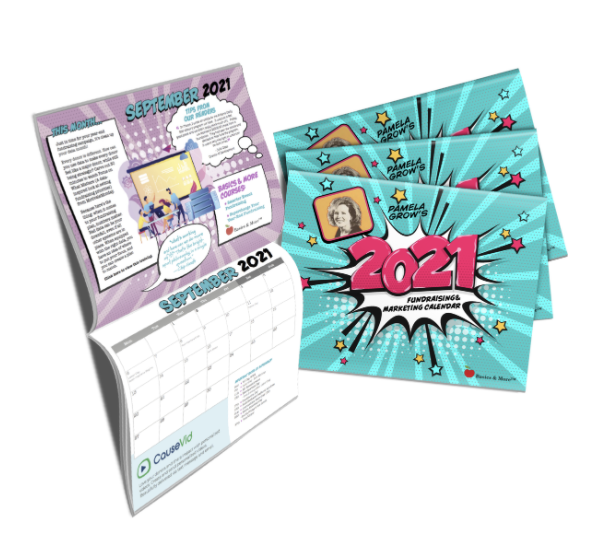 ---
{ 0 comments }